Spring 2023 E-Board Members
We are your e-board! If you have any questions about the club, feel free to email any of us!
President: Matt Blanco (he/him)
nuhoc.info@gmail.com
Loj Committee Chair: James Roth (he/him)
nuhoc.lcc@gmail.com or jer2038@gmail.com
Bio: James is a third year Computer Science major, staunch advocate for New Hampshire's superiority over Vermont, and avid hiker who hails from the tiny, tiny town of Lyme, NH (about one-386th the population of Boston, which is the ONLY reason he swears size doesn't matter). He believes the Loj is a wonderful place, that "Rock the Casbah" is an actually good song, and that the Fens geese do not deserve the gift of life.
Treasurer: Oliver Breese (he/him)
nuhoc.receipts@gmail.com
VP Organization: Ben Orton (he/him)
ortonbml@gmail.com
Bio: Ben is a third year Mechanical Engineering Major from Southbury, Connecticut, where he spent his childhood walking through the woods and munching on heads of lettuce. After stalking the NUHOC Instagram as a high school senior, he went up to the Loj for the first time in Fall 2021, and hasn't been the same ever since… (but in like a good way though). He enjoys hiking, skiing, climbing, canoeing, cycling, and pretty much anything else outdoors except spending too much time waiting at White Mountain Cafe. Long story short, the guy with curly hair.
VP Trips: Ruth Benyo (she/her)
nuhoc.info@gmail.com or ruth@benyoonline.com
Bio: Ruth is a second year chemical engineering major and hopefully photography minor. She's a fan of living out of a backpack (preferably in the woods), hiking, photography and occasionally skis. She's quite loud, pretty adventurous and if in doubt is probably the one stressed out in a corner somewhere; most of all though, she's passionate about NUHOC and super excited to be your VP Trips!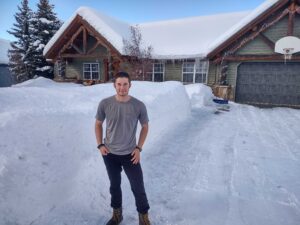 VP Communications: Drew Henderson (he/him) and Gabi Mazursky (she/her)
nuhoc.info@gmail.com
Bio: Drew is a first year health sciences major with a minor in Spanish. He loves backpacking, riding his bike, and hanging with his many many pets. If you have any general questions please slack him!!!
VP Publicity: Maaike Biemans (she/her)
nuhoc.info@gmail.com
Gear Guy: Phillip Wible (he/him)

nuhocgearguys@gmail.com or phillipwible223@gmail.com
Bio: Phillip is a fourth year Bioengineering and Biochemistry major originally from the wonderful land of Columbus, Ohio. Phillip likes to hike, bike, and ski. But, more than anything, Phillip loves to climb. Whether it's rock, ice, snow, or the walls of his house, Phillip is probably climbing it.
Ski Chair: Owen Poisson (he/him)
owenpoisson@gmail.com
Bio: Owen is a fourth year chemical engineering and biochemistry major originally from Virginia. He loves being outdoors when it's snowing, and also when it's not snowing. Although he does a lot of stupid stuff outside, he always thinks about if it's safe or not – just not necessarily before he does it. Owen's NUHOC claim to fame is living to see another day after a glorious battle with Durio zibethinus (not the name of a Roman gladiator, but of an equally cutthroat fruit). If you have any questions about NUHOC or need recommendations for hospitals near the Loj, he's got you covered.
Climbing Chair: Maddie Porter (she/her)
madisonporter2@gmail.com
Bio: Maddie is a third year environmental science major with a concentration in geoscience from a town in central Massachusetts that's half the population of northeastern. She didn't really do outside things three years ago, but since coming to Boston she has discovered her love of climbing and looking at rocks. She also likes digging holes in the ground to look at dirt. If you want to learn about climbing and go on some cool trips, Maddie can show you the ropes. Maddie also knows that's a terrible joke, but decided to type it anyway.
Trip Grants Chair: MacKenzie Mazzarisi (she/her)
mazzarisi.m@northeastern.edu
MacKenzie is a second year bioengineering student from New Jersey (does not claim any other relation to the state). She spends most of her free time in the woods, either hiking, snowboarding (way cooler looking than skiing) or climbing, and often has to be talked down from attempting dangerous feats with serious injuries. Favorite saying: "it'll go".
Build Committee Co-Chairs: Steven Abbott (he/him) and Filip Musial (he/him)
nuhocbuildcommittee@gmail.com (individual: sbabbott08@gmail.com and musial.f@northeastern.edu)

Activism Chair: Kitty Latoff (she/her)
latoff.k@northeastern.edu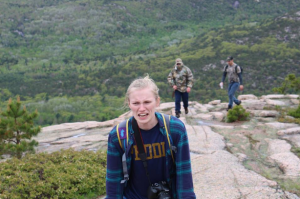 Permanent SGA Representative: Meg Dalrymple (she/her)
Bio: In 1996, the world was changed for the better when Margaret Dalrymple was born. Through much trial and tribulation growing up in middle class suburban New Jersey, she persevered and was accepted to Northwestern University. In the fall of 2014, she began her quest for knowledge in biology. During her sophomore year, she was dragged to the luxurious Quincy Quarries to try going up things. Given the prime environment, she was instantly hooked on climbing. Her middler year, she became the NUHOC SGA rep and has been ever since. She plans on dying in a freak accident at 69, but until then wants to do rad things outside.