Fall 2023 E-Board Members
We are your E-board! We plan & run each semester's trips, meetings, and activities! E-board meetings are at 6:30pm on Wednesdays right before each weekly meeting, and anybody is free to join! If you have any questions about the club, feel free to email any of us! 
President: Ben Orton (he/him)
nuhoc.info@gmail.com or orton.b@northeastern.edu
Bio: Ben is a fourth year Mechanical Engineering Major from Southbury, Connecticut, where he spent his childhood walking through the woods and munching on heads of lettuce. After stalking the NUHOC Instagram as a high school senior, he went up to the Loj for the first time in Fall 2021, and hasn't been the same ever since… (but in like a good way though). He enjoys hiking, skiing, climbing, canoeing, cycling, and pretty much anything else outdoors except spending too much time waiting at White Mountain Cafe. Long story short, the guy with curly hair.
VP Organization: Sophia Cotman (she/her)
nuhoc.info@gmail.com or cotman.s@northeastern.edu
Bio: Sophia is a third-year Civil Engineering major from Pasadena, California. Before NUHOC, she spent most of her summers in Glacier National Park with her family in Montana. She loves to do practically anything outside: hiking, backpacking, surfing, etc. In her free time, she is probably redesigning a bike lane for the City of Boston or talking about trains. You can spot her at the loj by looking for that someone with a camera.
VP Trips: Gabi Mazursky (she/her)
nuhoc.info@gmail.com or mazursky.g@northeastern.edu
Bio: Gabi is a second year Environmental and Sustainability Sciences Major from Chicago, Illinois (the wild wild Midwest). Because of this, she grew up spending her summers on the beach of Lake Michigan and hiking the very flat terrain that Illinois has to offer. She loves spending time outside hiking, biking, and trying new outdoor activities. At any given time she can be found talking about or listening to the Grateful Dead while snacking on a bell pepper as if it were an apple. If you're wondering who she is, just look for the shortest person on Eboard.
VP Publicity: Aaron Muldrew (he/him)
nuhoc.info@gmail.com or muldrew.a@northeastern.edu
Bio: Aaron is a fourth year Mechanical Engineering and Physics major from Westfield, Massachusetts. He grew up camping, hiking, and backpacking in the woods of western mass as a Boy Scout and is currently trying to figure out how to become a Man Scout. After moving to Boston, he has determined that he would very much like to go back to the woods, which is why he spends as many weekends as he can outdoors. You can find him at the Loj as the one incorrectly naming the constellations.
VP Communications: Carter Pomponio (he/him)
nuhoc.info@gmail.com
Bio: Carter is a 2nd year Mechanical Engineering Major from Medway Massachusetts— which is pretty much equidistant from Boston, Worcester, & Providence. Despite being from suburbia, he grew up spending weekends in the White Mountains hiking the high peaks, swimming in lakes, and just getting out into the great outdoors. Carter can usually be found planning for the next adventure, advocating for the use of Dutch ovens, or staring off into some distant view.
Gear: Deb Bender (she/her)

nuhocgearguys@gmail.com or bender.d@northeastern.edu
Bio: Deb is a third year English major from Miami, Florida (don't ask her the real name of her town). Before NUHOC she had never seen a snowy mountain and would spend most of her time outdoors in the palm trees and oceans of the Sunshine State. She has since discovered that she highly enjoys camping and hiking but she should probably do more cardio because boy can that elevation gain be rough. Deb can most often be found discussing sea creatures (especially sharks) and reminding everyone that she's cold because she's from Florida.
Ski Chair: Aidan Ruggles (he/him)
ruggles.a@northeastern.edu
Bio: Aidan is a 3rd year cell and molecular biology major who makes sure to tell everyone that he is from the great state of Vermont (superior to New Hampshire). His main outdoor activities are climbing and skiing, but prefers literally anything to the gloom of Snell Library. He can often be found noodlin' on a guitar around the loj fire, bouldering the outhouse, or crawling around on top of the kitchen shack roof.
Climbing Chair: Sarah Tong (she/her)
tong.sa@northeastern.edu
Treasurer: Oliver Breese (he/him)
nuhoc.receipts@gmail.com
Activism Chair: Loula Kostas (she/her)
kostas.s@northeastern.edu
Bio: Loula is a fourth year Environmental Studies and Sociology major from New York City. She had never seen a tree before joining NUHOC, and is now passionate about hugging them. Her favorite activity at the loj is keeping her shoulder in its socket.
Loj Committee Chair: James Roth (he/him)
nuhoc.lcc@gmail.com or jer2038@gmail.com
Bio: James is a third year Computer Science major, staunch advocate for New Hampshire's superiority over Vermont, and avid hiker who hails from the tiny, tiny town of Lyme, NH (about one-386th the population of Boston). He believes the Loj is a wonderful place, that "Rock the Casbah" is an actually good song, and that the Fens geese do not deserve the gift of life.
Build Committee Co-Chairs: Steven Abbott (he/him) and Filip Musial (he/him)
nuhocbuildcommittee@gmail.com (individual: sbabbott08@gmail.com and musial.f@northeastern.edu)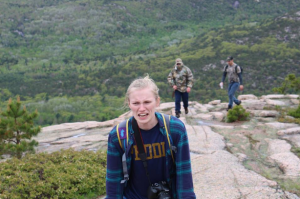 Permanent SGA Representative: Meg Dalrymple (she/her)
Bio: In 1996, the world was changed for the better when Margaret Dalrymple was born. Through much trial and tribulation growing up in middle class suburban New Jersey, she persevered and was accepted to Northwestern University. In the fall of 2014, she began her quest for knowledge in biology. During her sophomore year, she was dragged to the luxurious Quincy Quarries to try going up things. Given the prime environment, she was instantly hooked on climbing. Her middler year, she became the NUHOC SGA rep and has been ever since. She plans on dying in a freak accident at 69, but until then wants to do rad things outside. She is currently 27 years old.