WE GO ON TRIPS!
NUHOC runs trips virtually every weekend of the year. We go camping, hiking, climbing, backpacking, skiing, snowboarding, snowshoeing, biking, canoeing, surfing, and much more! Whatever outdoor activity you can think of, we either do it or would want to try it out! If you want to find out about our upcoming trips, check out our calendar. In order to get up to date information about upcoming trips, make sure you're on our mailing list and in our Slack workspace. Some of our large, annual trips are listed below.
Interested in leading trips with NUHOC? Click here to learn more!
What to expect from a typical Loj weekend
Video by Elena Boggio (https://www.elenaboggio.com/)
NUComers – Indigenous People's Day Weekend
For NUComers we invite ~120 incoming freshmen and other Northeastern students new to the club up to the Loj for the first time. We spend the long weekend hiking, climbing, biking, apple picking, pumpkin carving, and getting to know each other. This is one of the best trips to go on as a new NUHOCer because you'll meet tons of new and interesting people. Expect lots of campfires and s'mores.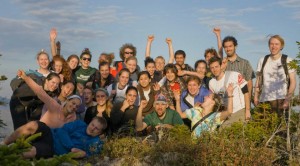 Hallowork Weekend
Every Halloween we host a weekend at the Loj that is dedicated to two things: doing maintenance around the Loj and wearing costumes. We spend the weekend cutting wood, fixing things that need fixing, maintaining hiking trails, and doing many other things to prepare the Loj for another winter and another year ahead. Then on Saturday night we celebrate the hard day's work with a costume party!
Winter Carnival
Every February we spend one weekend competing in games and contests that challenge our coordination, strength, agility, speed, wit, and talent, all to achieve the distinction of Winter Carnival Champion. Games often include, but are not limited to, sled jousting, dodgeball, volleyball, donut eating, relay races, and a talent show. Points are awarded by alumni judges, who may sometimes accept bribes.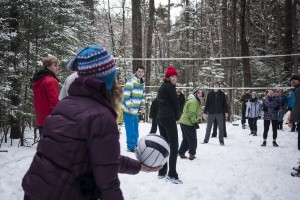 SOLO (Wilderness First Aid)
Every year we offer a weekend of Wilderness First Aid Training to our members free of charge! A SOLO (Stonehearth Open Learning Opportunities) representative comes to the Loj and teaches us everything we need to know to perform proper wilderness first aid. This is one of the items on the LCT list, and it's also a good thing to know about even if you're not an LCT. If you want to know more about wilderness first aid, and if you enjoy role playing, this is the trip for you. Check out the SOLO website for more information.
Acadia
Every Memorial Day weekend, NUHOC leads a group of over 100 people to Acadia National Park in Maine for a weekend full of camping and outdoor fun. On this trip you could find yourself hiking around mountains and ponds carved by glaciers, biking the historic carriage roads, sea kayaking in the bay, or even rock climbing on the otter cliffs by the ocean. On top of all that, you can sample one of the many ice cream shops in Bar Harbor before finishing the day around the campfire sharing stories of the day's adventures.
Intro to ______________
Throughout the year, we lead many intro trips, which allow club members to introduce others to new outdoor activities that they may have never tried before. Some of our intro trips include backpacking, winter backpacking, climbing, and skiing/snowboarding. If you would like to lead an intro trip, you can reach out to someone on the e-board to start planning one. We love trying new things!
These are only a few of the trips we go on. Check our calendar for upcoming trips and come to the meetings to hear more about them!