HELLLOOOOOO NUHOC!!! Please join us tomorrow (5/31), in centennial common at 7:30 PM!! We will be going over our weekly routine and then hosting some sponge games! As a reminder, anyone and everyone is welcome to join our eboard meetings. Tomorrows will be at 6:30 in centennial, as well. Come hang out 🙂 🧽🌲🏕️
HELLOOOOO NUHOC!! This week's meeting will be Wednesday, May 17th at 7:30pm in Hurtig 130! We'll be going over some quick trip announcements and holding our weather-off to elect our NEW WEATHER-PERSON!! Afterwards, we'll take a little trip to the esplanade to enjoy the nice weather.

Also, for those who are interested – NUHOC e-board meetings are open to all general members, not just those with positions. If you are interested in becoming a more active member of the club and gaining greater insight into how everything works, please consider coming to our e-board meetings! They are every Wednesday before general meetings at 6:30. Locations vary but we will most often be out on Centennial – which is where we'll be Wednesday! You can be as involved as you like, but please don't hesitate to speak up with any questions or concerns, should you decide to come.

See everyone Wednesday!
HELLOOOO NUHOC!! I hope everyone is having a good summer! Our first meeting will be this Wednesday at 7:30 pm, in Behrakis 220. We'll be discussing our upcoming ACADIA TRIP!! and talking about our plans for the summer! Afterwards, there'll be a relay race, and we'll go outside to enjoy the nice weather. I hope to see everyone there!!
This past weekend, we put a bunch of OSB subflooring on the lodge deck.
Congratulations to the newly elected summer e-board!
President: Ben Orton
VP Trips: Erica Sammarco
VP Communications: Noemi Drabkin
VP Publicity: Deb Bender
VP Organization: Sophia Cotman
Join us tomorrow on CENTENNIAL QUAD at 7:30pm for our last meeting of the semester.
We will be camping on centennial, having a BBQ, stacking hammocks, and holding our summer e-board elections! See y'all there! 
FYI, food will be served on a first come first serve basis!
Finally, another reminder to submit any photos for our last photo contest to the insta (@wegooontrips) before noon today for a chance to win some merch! 
Join us tomorrow at 7:30pm in 103 Churchill for our weekly meeting!
This past weekend, we celebrated Yurtapalooza up at the Loj. This was the last Loj weekend before taking down the yurt. We will be taking down the yurt this coming weekend. Yurtapalooza was a lot of fun, and even though we didn't take down the yurt yet, we took out all the remaining items from the inside of the yurt, including the floorboards, the wood stove, the couches, the lights, and more. It was a chilly weekend and it was a bit bittersweet to say goodbye to the yurt, but the vibes were immaculate and we had many alumni from all across the country coming back to visit. We are still working on finding a forever home for the yurt, but we have some leads and hopefully it will remain in the NUHOC family.
We also heard some amazing musical performances at Yurtapalooza, including several songs written and performed by Dan Schwindinger specifically in honor of the event!
Join us in Churchill 103 at 7:30pm tomorrow for our weekly meeting!
This past weekend we picked out a ton of the posts and beams to be used in the new Loj based on their dimensions and quality! The reclaimed lumber was cleaned and labeled, and we'll hopefully be able to starting cutting them to length and creating notches soon after the yurt comes down!
Speaking of the yurt, some of the remaining items like the bookcase and wood rack were removed as we approach yurt takedown soon!
This coming weekend will be Yurtapalooza, a weekend where we'll celebrate the yurt and finalize preparations for its disassembly! Our build committee is will also be meeting with the Shelburne Planning Committee to discuss the Loj plans!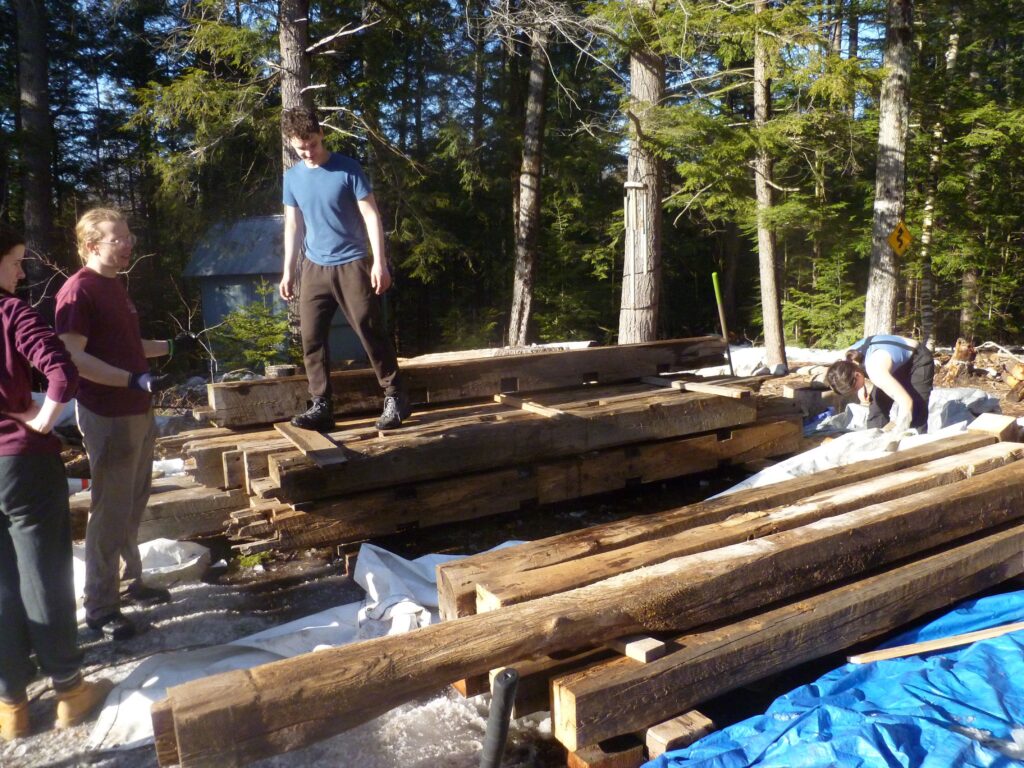 Join us tomorrow in Churchill 103 at 7:30pm for our weekly meeting!
Our partnership with Ikon to get you a super-discounted ultra-season pass that works all across the country has officially LAUNCHED for the 2023-2024 season! If you are interested in purchasing a pass, please go to this link, fill out the form, and email our ski chair, Owen Poisson (poisson.o@northeastern.edu), a screenshot of your schedule from the Student Hub with your NUID showing (see below) so we can verify that you're a student. Owen will send you your discount code within a few days, which you can use on the Ikon website to access the college discount rates.
If you're slated to graduate this semester, make sure you get your ski pass now while you're still a student! Also, this program is available to all college students in the US. If you have friends at a different school that are interested in a discounted pass, send them this info and they can get a code too.
If you want more details about what benefits the Ikon Pass offers, whether it's worth it to buy one, which version to buy, or just general ski questions, please reach out to Owen directly on Slack or via email, or send a message in the #skiing channel on Slack!
You can also see the Ikon Pass website for more information about the Ikon Pass. Click here to view more information about the Ikon Pass, and click here to view more information about the Ikon Base Pass.